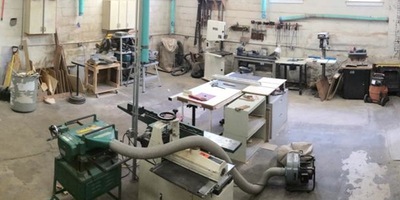 The Makerspace's wood shop is in need of some new equipment. During the early years of the space there were some generous members that loaned us most of what we use today for a set period of time. We are approaching the time at which we need to give these tools back to their original owners, so we are now seeking donations from the community to help us replace this equipment.
Our current finances aren't good enough to be able to cover the $10,000 it would take to replace all of the tools, but we know there are tools out there that people aren't using or want to get rid of that would do just fine for us. Primary tools we are looking for right now are a table saw, band saw, miter saw, and jointer. Any other wood shop equipment would be welcome as well, but those are the main tools we cannot do without.
It's at this point we'd like to remind people that we are a registered non-profit and can write receipts for any donated equipment, as well as monetary donations (which are also welcome). If you or someone you know has equipment that is in good condition and are willing to part with it please contact us at shop@portcitymakerspace.com or 603-988-5798. We also have a equipment donation proposal form that you can fill out here, which provides us with details for review so we can determine if it will work for the wood shop.
If you can make a monetary donation towards this effort you can do so through this form below. We will provide you with a receipt of donation.