As of 3/27, the Makerspace is closed temporarily in response to the Governor's Emergency Order #17.
Classes are not running at this time, but we are running "Virtual" events.
Please read this post for updates.
Intro to 3D Printing
December 1, 2018 @ 1:00 PM

-

4:00 PM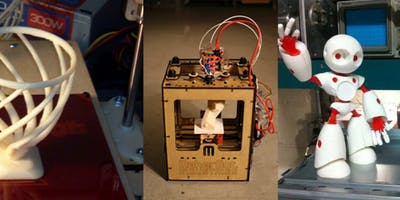 Learn how to turn a 3D model into a physical object using 3D Printers at the Makerspace!
In this class, you will learn the basics of taking a design or idea, turning it into a 3D model using TinkerCAD or Fusion 360, and how to use our 3D printers to print it out! This is a crash course that will touch on a lot of topics with the intent to prepare any prospective or current members on how to use our 3D printers.
It is recommended to familiarize yourself with the 3D modeller of your choice before the class so you can follow along and ask questions.
TinkerCAD can be found online here. It is free, and it is more oriented towards kids and simple 3D modelling. Most browsers should be able to use it.
Fusion 360 can be downloaded here from their website, and is for more professional and complex 3D modelling. Please look at the requirements for your computer to run this program before attempting to install it.
We will have time for Q&A to discuss various types of projects, advice on printing, working on the machines themselves, and anything else people are curious about.
Instructor: Alex Nunn
Attendees: 3-7
Attendees can receive refunds up to 7 days before your event start date.
Registration closes 3 days before the event.
Related Events