Announcement: 12-13-2016
Jump to navigation
Jump to search
Fabulous Find Fundraiser!
Help raise money for the space and other non-profits this month!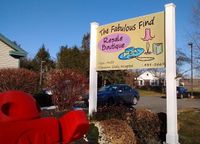 We are one of five non-profits selected to receive the funds from the Fabulous Find, a non-profit thrift store in Kittery, ME with the focus of raising money each month for selected non-profits. Other non-profits selected this month are: Portsmouth Pro Musica, Amare Cantare, Granite State Choral Society and Kittery Art Association.
From December 10th till January 7th, please promote the Fabulous Find on Facebook and Twitter or in person and encourage people to either spend money there or donate some goods like clothing, housewares, toys, and so on. Here are some posts to share via Facebook and Instagram
Look at Fabulous Find's website to find out more about them and their mission.