Resaw Bandsaw
Jump to navigation
Jump to search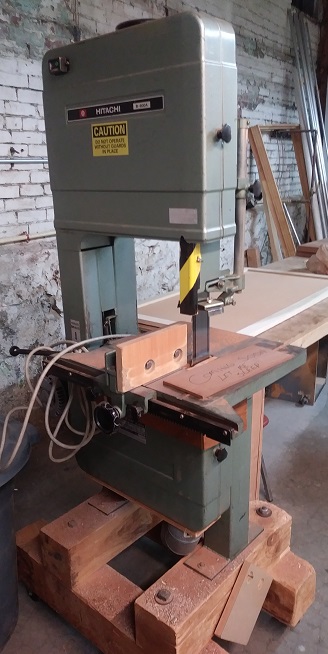 This resaw bandsaw is property of Oden, one of our members. He will be loaning it to the shop. This is the perfect machine for cutting veneer or slicing large lumber into thinner boards.
Attendance at Oden's initial tutorial: Jeff G, Jeff H, Jeff B, Paul B, Elliot S, Neil R, Alex N.
You must talk to Oden to get access to this tool. It will be locked out, with the key available to those that get checked out.
For reference:
Blades cost $175
Motor costs $250
Important Notes
The motor can burn out if it stalls. Shut off immediately if it stalls and/or the blade gets stuck.
Be very careful when pushing through. It has a very fast cutting rate, and fense spots or knots can cause it to jump after pushing through.
Round logs should have a flat on the bottom so they are stable.
Round logs can also be secured to a sled with screws.
DO NOT CUT RECLAIMED LUMBER OF ANY METALS JUST LIKE THE REST OF OUR SAWS.
DO NOT ADJUST THE TENSION, GUIDES, OR BLADE. Ask Oden if you think any adjustment is needed. It more than likely does not.
Approved Users
Oden T
Alex N
Jeff H
Jeff G
Paul B
Elliot S
Neil R
Jeff L
Jay S
Ben P