Wood Lathe
Jump to navigation
Jump to search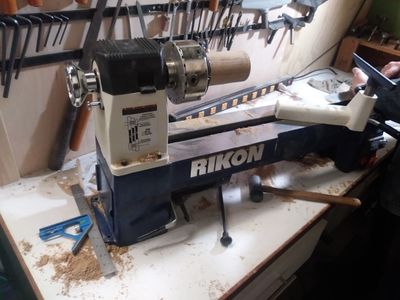 About our machine
[
edit
]
This tool requires a safety checkout
Main Lathe
Model: Rikon 70-220VSR
Capacity: 12.5" x 43"
Speeds: 250 to 3,850 rpm
Spindle: 1"x8TPI
Spindle Taper: MT2
Hole through spindle: 3/8"
Chuck
Threads: 1 1/2" x 8 (use with adapter)
Extra Lathes
Model: Delta 46-250
Model: Central Machinery 65345

Capacity: 10" x 18"
Speeds: 950, 1100, 1600, 2200, 3200 rpm
Guides and Manuals
[
edit
]
General Tips and Safety
[
edit
]
VVV___REQUIRED SAFETY VIDEOS___VVV:
Members must watch these videos before using the lathe.

Important Safety Rules:
Remove any jewelry, roll up sleeves, and otherwise secure anything that could get wrapped up in the machine.
Position the tool rest as close as possible to the material without colliding.
After adjusting the tool rest, BEFORE TURNING IT ON spin the workpiece by hand to make sure it will not collide.
Safety eye wear required. Faceshields are highly recommended. Safety glasses are okay, but less effective.
Always use sharp tools! Dull tools cause chip-out, but more importantly can get caught on your material.
Avoid using materials that may break apart. Split wood, laminated materials, rotted pieces, etc.

General Tips
Wear an apron or smock. Turning gets pretty messy.
Helpful Videos
[
edit
]
Maintenance
[
edit
]
Parts:
Quick Links
General
Shops
Volunteering
Tools
Community

- - - - - -

List of Tools - Category:Tool

- - - - - -

Slack - member chat

- - - - - -