A Community Shop in Downtown Portsmouth
The ultimate playground for those who tinker, design, build, fabricate, prototype, make and machine
Please follow this link for more information about the
precautions that the Makerspace is taking regarding COVID-19 :

more info

.
As of 3/27, the Makerspace is closing temporarily in response to the Governor's Emergency Order #17. For members, please read this message.
Welcome to Port City Makerspace, the co-op shop for Portsmouth New Hampshire!
Port City Makerspace is a welcoming and inclusive community workshop that provides tools, knowledge, and a collaborative culture to encourage the artist and maker in everyone. We are organized and operated as a New Hampshire 501(C)(3) Non-profit Organization. In this environment members work both independently and collaboratively to research ideas, develop projects and put their heads and hands to good use.
We have shop spaces dedicated to wood-working, metal-working, automotive and bicycles, electronics and 3D printing, and a classroom space which can be used for many more things. We are open to the public and no experience is necessary, so please stop in, check us out, and see what the space can provide for you. There are lots of reasons that you need tools in your life, and we are willing to help in any way we can.
Five easy ways you can join us:
1. Attend a class or a meet up at the space to get a feel for what its like working in the shop.
2. Come to an Open Hack Night on Friday nights from 6-8 to hang out with other makers.
3. Get a Port City Maker and be a part of our community.
4. Sign up for 24/7 Maker's Guild membership and use the space any time! Click for more membership information.
5. Sign up for a whole year and become a regular!
Do you use Amazon for buying things? You can support our nonprofit by using smile.amazon.com when you purchase stuff! Just follow this link and choose us the nonprofit you'd like to support. Amazon will donate 0.5% of purchases made through this program, which isn't much but it can add up over time!
Give the Gift of Making
Know someone that would love to join? Get them a gift card!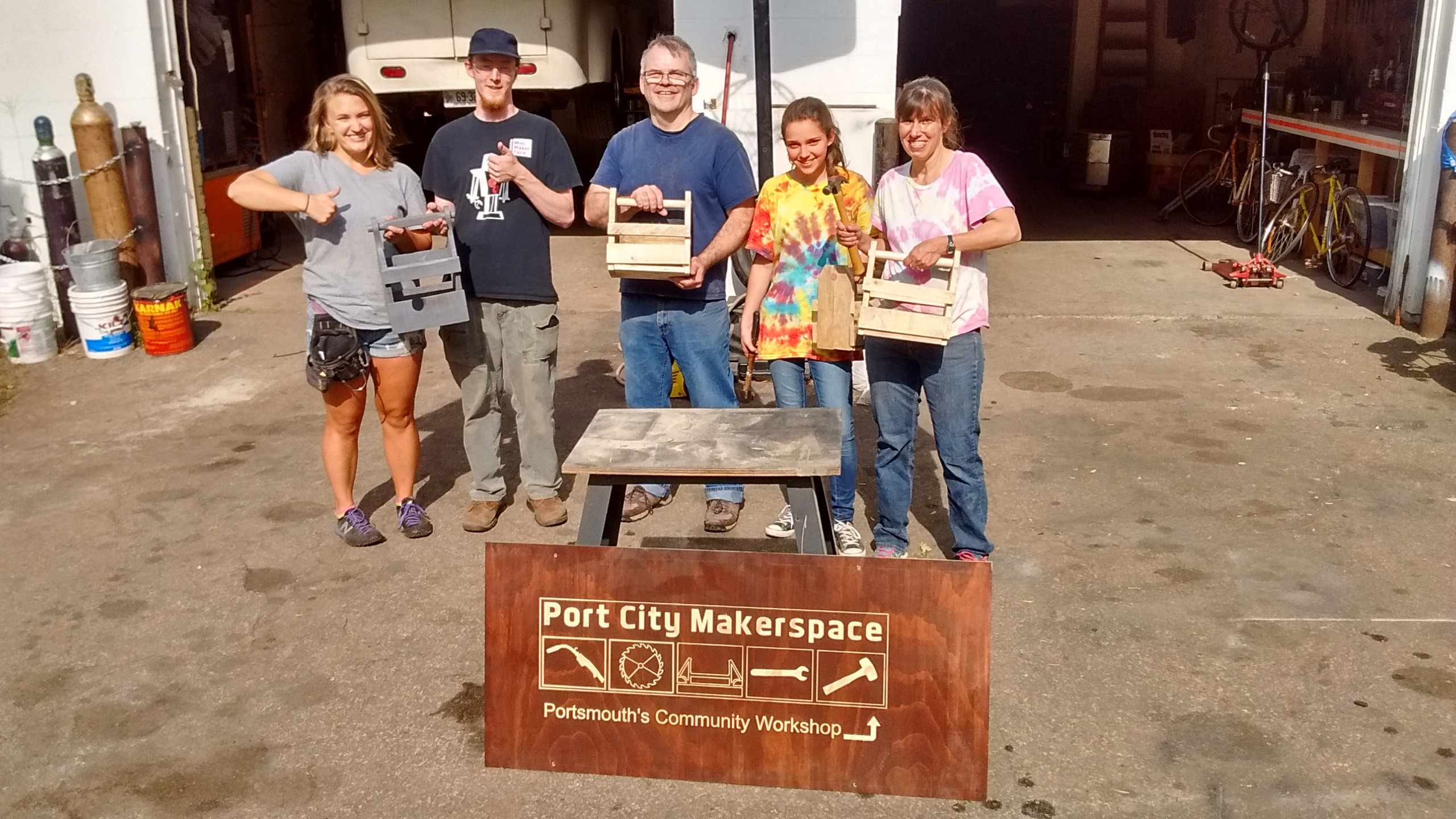 Want to get started on a project at the makerspace?
Open Hours
Tuesday – Friday: 12pm-8pm
Saturdays: 10am-8pm
Sundays: 10am-6pm
Closed Mondays
How to find us
68 Morning Street Portsmouth, NH 03801
From the traffic circle:
Take the exit at the Holiday Inn
Go right onto Woodbury Ave
Go right on Morning St right after the bend
Follow it down to the parking lot in the back of the building!
From downtown:
Go south down Islington St towards Route 33
Take a right at the light by CVS
Take the left down the road by Black Sheep
Look for the big parking lot and the Open flag!
Questions?
Reach out to us if you have any questions or want help getting started!