Current Volunteer Opportunities
We are seeking motivated and aspiring makers to help as Weekly Volunteers for the following times:
4-8pm Tuesday
4-8pm Thursday
4-8pm Friday
10-2pm Saturday
2-6pm Saturday
Use the form below to apply for these positions!
Email info@portcitymakerspace.com if you have any questions about these opportunities!
Help out around the shop and become a Volunteer!
See the various opportunities to get involved in our community workspace!
Weekly Volunteers
Want to be a regular volunteer at Port City Makerspace? Our elite team of volunteers is looking for new members and we want you to apply! Makerspace volunteers manage the shop, maintain tools, organize and clean, and are extremely important members of our community. As a Weekly Volunteer, you will be at the shop for a 2 or 4-hour shift and help out with upkeep and helping out members.
Resource Manager
Do you have experience with a specific tool? Do you use a certain part of the shop a lot as a member? Help us take care of it!
As a Resource Manager, you will help take care of a particular piece of equipment or area of the shop. There is no time commitment, just the expectation to check on the resource regularly and make it sure it is in top shape!
Shop Manager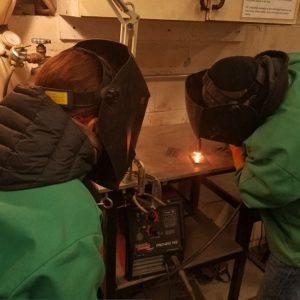 One of the most important roles here are the Shop Managers. These are the volunteers that spend a lot of efforts making a shop space the best that it can be – keeping it clean and organized, making sure tools are operational and tuned up, and assisting with tool training and classes. Due to the high expectations, we do offer a membership perk as thanks for the hard work these volunteers do.
Want to help out with one-off projects and volunteer days? Join our mailing list and select that you want to hear about Volunteer Opportunities!
Participate in planning and organizing!
Get involved with a group that focuses on an area that interest you most.
Get Involved in a Committee
Members and the public are welcome to participate at a Committee level, where groups work together to support their respective Shop or area of focus. Committees are usually run by a Shop Manager or a Director, and are hosted once a month. Shop Meetings can be attended by any member. Board Committees may be attended by any member or prospective volunteer but a request must be made to the chair beforehand.
Upcoming Meetings
These are upcoming meetings for our shop and board committees. Please contact the chairperson of the committee if you are interested in attending!
Meetings are displayed in green.
Classes and events are displayed in orange.
Holidays are displayed in blue.